R. Haviland & C. Parlon Fine China Dinnerware
About R. Haviland & C. Parlon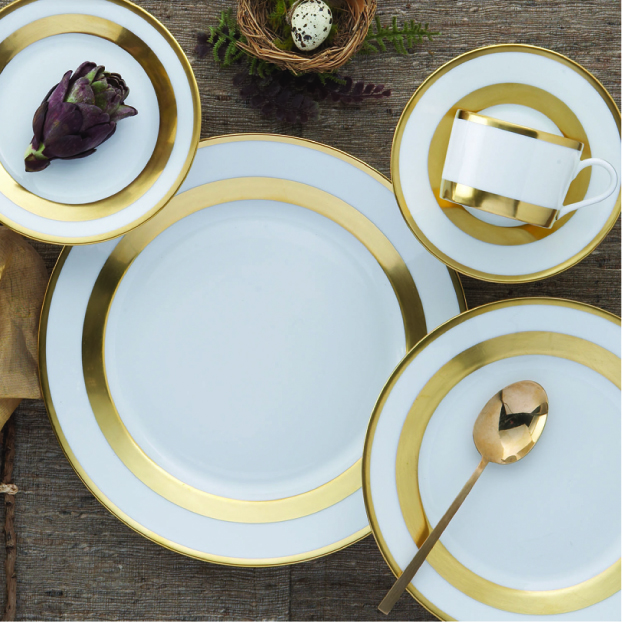 The Haviland Dynasty
The story begins in the New York area, where Robert Haviland was born in1803 to a family of landowners in a town called Harrison's Purchase. He moved to France in 1839 seeking porcelain makers, and in 1853 he joined the company founded in Limoges by his younger brother David. Soon afterwards, Robert's son Charles Field Haviland, born in 1832, joined the family business (the name Field had been added through a series of family alliances). By marrying the granddaughter of François Alluaud, Charles allied himself with a family that had been producing fine porcelain in Limoges since 1797. He quickly acquired the family china business and began stamping his name on the wares he produced. When Charles Field Haviland retired in 1882, his passion for fine chinaware was passed on to his descendants.
So it was therefore no great surprise when his grandson Robert Haviland founded his own china making business in 1924, at the tender age of 27, stamping his wares with his name. Two years later, through a partnership with his brother-in-law Pierre le Tanneur, a new company was born: "Robert Haviland & le Tanneur". Shortly before World War II, Camille Parlon, the owner of Union Céramique, brought his know-how to their business. In 1941, Robert Haviland acquired the "Charles Field Haviland" brand in homage to the memory of his grandfather; he decided to stamp this brand on chinaware produced by his company, which was renamed "Robert Haviland & C. Parlon" in 1949. The advent of the 50s and the arrival of two young business school graduates, Michel Ardant (ESSEC 1950) and André Parlon (ESCP 1950), brought a breath of fresh air to the company. These two young men helped the company successfully navigate the major technological and creative transformations of that period, without losing sight of their predecessors' standards of excellence.
Together, Michel Ardant and André Parlon remained at the helm of the company for forty years, aiming to achieve high ambitions. They began to reproduce antique porcelain pieces in collaboration with museum curators. Hence the Russian pattern created in 1762 by Falconet for Empress Catherine II of Russia was reproduced for New York's Metropolitan Museum of Art; the Rossini cup for the Paris Opera; and Peony dishes and cups were adapted from dinnerware produced by the Vincennes porcelain manufactory in 1750, for the Musée des Arts Décoratifs. Other examples are the painted Monet dinnerware set designed for the Claude Monet Museum in Giverny, and of course the Ladies and the Unicorn series inspired by the Cluny Museum tapestries in Paris. In 1984, the Robert Haviland & C. Parlon porcelain company became a member of the "Comité Colbert", a select association of the most prestigious French luxury goods producers. The company subsequently began making signature pieces and chinaware for fine restaurants and luxury hotels, as well as the French and Belgian Embassies, European Union delegations, the French Prime Minister's residence, and the royal families of Morocco, Bahrain and Oman, to name just a few.
In 1992, Michel Ardant and André Parlon sold the company, which then underwent a period of uncertainty. The silversmith Ercuis acquired the business in 2003, with a view to preserving and promoting its high quality craftsmanship. In 2011, the company was awarded the "Entreprise du Patrimoine Vivant" (Living Heritage Company) label by the French State, in recognition of its excellence and unique know-how based on artisanal techniques.
Today, the Robert Haviland & C. Parlon porcelain manufactory is laying the groundwork for the future of Limoges, seeking to combine tradition and modernity, history and innovation by drawing on the talents of tomorrow.
Manufacturing China for Robert Haviland & C. Parlon
The Art of Making Fine China
A subtle blend of kaolin, feldspar and quartz, the paste used to make china comes in several formats: powder (used for isostatic pressing), paste (for calibrating) or liquid (know as the "slip" and used for casting).
The majority of plates are produced using molding via isostatic press. This production method consists of firmly pressing powder mixed with a binding agent between two molds (the "stamp" forming the top and the "membrane" forming the bottom). Other circular pieces, such as cups, serving bowls and serving dishes, are molded from paste using the calibration technique: turned by hand on a modeling wheel. Finally, for so-called "hollow" pieces such as teapots, cream jugs and sugar bowls, the paste is poured in liquid form ("the slip") into hollow plaster molds (1), where the water absorbed by the plaster interior forms a crust. After drying and demolding, but before the first firing at 980° C (called the "warm up"), handles, knobs and spouts are individually glued to the slip: this is the process of garnishing (2). Thus, a coffeepot may be composed of disparate parts produced by five different molds. Each piece is then carefully deburred, a finishing stage to trim, clean and remove any seams or rough edges.
Once the pieces are removed from the first "warm up" firing oven (3), they are more resistant to breakage and have been rendered more porous and receptive to glazing. Glazing is a delicate operation whereby each piece is plunged into a liquid bath of carefully dosed mineral components (4). They are then placed in an oven for the second firing or "high firing" at 1400° C which vitrifies the glazed porcelain, giving it the shiny and transparent appearance of fine china.
Decorating Fine China
There are multiple decoration techniques: chromolithography (or transfers), hand painting, inlaying and sanding. All of these techniques require exceptional manual skills and craftsmanship.
Chromo (or transfer) decorations are printed on transfer paper which must be soaked in water; the decoration is then delicately lifted from the paper by the decal applier, and painstakingly applied to the white porcelain (5). This difficult operation is further complicated by the complexity of decals which must adhere perfectly to rounded shapes without any visible seams.
Hand painting (6) requires great dexterity. This technique is notably used for painting the fine borders around plates and serving dishes, or for garnishing handles and knobs on pouring pots and soup tureens.
Inlaying is a highly luxurious method of ornamentation requiring an entire series of operations entrusted to expert hands. It consists of engraving chromo decorations directly into the porcelain, after having first protected the rest of the piece with a coating of tar. Then the engraved motif is covered with gold or platinum powder, fired again, sanded, polished and burnished with agate for an incomparable shine (7).
More than thirty artisanal processes in as many days are carried out by loving hands, to obtain just one piece of fine chinaware manufactured and decorated by R. Haviland & C. Parlon.